Therapeutic and relaxation massage.
Therapeutic massage stimulates and relaxes muscles, helps relieve back pain, improves circulation of fluids in the body and improves mobility of joints and ligaments. The physiotherapist selects the right massage techniques for the individual in order to fully relieve the body of the massaged person of strenuous tension, improve blood and lymph circulation in order to increase tissue oxygenation levels and accelerate the outflow of metabolic by-products. Through therapeutic massage, you also achieve increased muscle mass, firmer and smoother skin and deep relaxation that harmonises body and mind.
Therapeutic massage has regenerative, improving and relaxing effects, definitely improving the quality and comfort of patients' lives.
ADDRESS
ul. Limanowskiego 15
30-551 Kraków
PRACTICE HOURS
Monday – Friday
8:00 – 21:00
Therapeutic and relaxation massage with physiotherapy specialists
Massage is one of the oldest therapeutic treatments that directly affects the tissues of the human body through various manual techniques, pressure and therapeutic manipulation. It has a beneficial effect on all of our body's systems, effectively alleviating tension, injuries, pain and joint and muscle dysfunctions. The physiotherapist chooses the right type of massage to the patient's needs, compiling the appropriate manual techniques based on a thorough analysis of the patient's condition, the extent of their ailments and factors such as age, gender, body weight and general health. During the treatment, the therapist observes the reactivity of the patient's tissues and muscular system by flexibly grading the strength of the physical stimuli and the duration of the massage. Satisfactory results of therapeutic massage depend to a large extent on the correct choice of working method and the therapist's goal of treatment. A professionally performed massage has a positive effect on both physical and mental health and fitness.
Customised therapeutic massage
The benefits of massage are numerous, as are the methods of performing it. Out of the many options, physiotherapists most commonly use classical massage, connective tissue massage, segmental massage, tensegrity massage, deep tissue massage, myofascial and trigger point therapy and lymphatic drainage, often combining several techniques in one session.
Therapeutic massage – indications
The most common indications for therapeutic massage are diseases and dysfunctions of the musculoskeletal system, post-traumatic or inflammatory conditions of the muscles and joints, fatigue or muscle fibre rupture, and pain in the course of inflammatory or degenerative diseases of the musculoskeletal system and spine. Therapeutic massage also supports the respiratory muscles of patients suffering from respiratory failure, removes lymphoedema, and alleviates paresis and painful muscular paralysis in people with diseases of the nervous system. Professional therapeutic massage is recommended for people working with computers, performing office work and suffering from the discomfort of sitting in one position for long periods of time. It is an important element in the training plan of very active people, especially athletes, as part of regeneration, post-injury rehabilitation or preparation before competitions.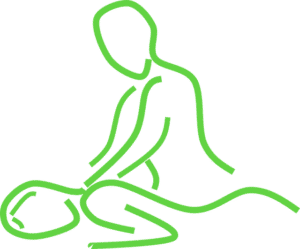 Therapeutic and relaxation massage techniques
Classic therapeutic massage
Classic massage is the most popular form of massage chosen to gently de-stress the patient's tense tissues and muscles, as well as deeply relaxing the patient. Depending on the strength, pace and choice of massage techniques, a relaxing or stimulating effect can be achieved. During the treatment, the physiotherapist uses a lubricant, e.g. massage oil. Eight massage techniques are used – stroking, rubbing, kneading, pressure, patting, vibration, spreading and rolling.
Myofascial trigger point therapy
Myofascial therapy, known as trigger point therapy, supplements classical massage, which is highly beneficial for achieving a spectacular therapeutic effect. The aim of the therapy is to free the patient from pain and improve disturbed movement patterns. The effect of massage using the trigger point technique is very deep oxygenation of the painful area, thus nourishing and regenerating the tissues, allowing the massaged area to become freed from swelling, stiffness and tension.
Segmental massage
Physiotherapeutic segmental massage is a special technique for working on the patient's tissues and muscles consisting of a number of precise grasps and manipulations with a strictly defined sequence of execution. Its primary aim is to find any abnormalities in the patient's body structures or increased tension and to remove these dysfunctions. Segmental massage improves the functioning and entire fascial-vascular and nervous system within the patient's tissues and organs being worked on.
Lymphatic massage
Lymphatic massage, also known aslymphatic drainage, has a very beneficial effect on patients' health, especially as part of rehabilitation after surgery, plastic surgery, hip or knee replacement or ligament reconstruction. It is an extremely valuable therapy that quickly and effectively restores proper circulation of the most important body fluid in the human body – the lymph. Lymphatic drainage has an excellent effect on venous capacity and is recommended, among other things, for the prevention of venous thrombosis.
Deep tissue massage is a method of gently affecting the tissues beneath the patient's skin. The aim of the massage is to relax tensions at tissue-muscle-fascial junctions and to create an analgesic effect, as well as quickly restoring the patient's ability to maintain proper posture. Indications for deep tissue massage include postural defects, muscle pain, sciatica and shoulder pain, as well as contusions, sprains and strains causing stubborn pain in the limbs.
Centrifugal massage (joint massage)
Centrifugal massage, also known as intra-articular massage, supports orthopaedic treatment and is indicated for patients struggling with rheumatoid disease and strains, injuries and inflammation of joints, tendons and ligaments. The aim of the massage is to regenerate periarticular structures, reduce swelling and restore function after various types of injury and orthopaedic conditions.
CHOOSE A SPECIALIST AND MAKE AN APPOINTMENT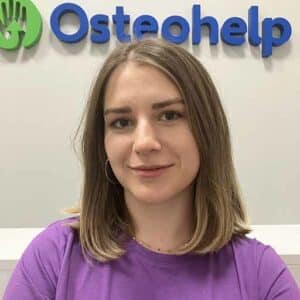 Urszula Gwóźdź
Physiotherapy / Manual therapy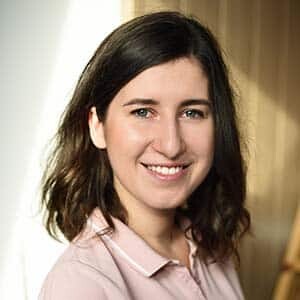 Tola Wierzbik
Physiotherapy / Manual therapy
OSTEOPATHY / PHYSIOTHERAPY / THERAPEUTIC MASSAGE